The Kernel Brewery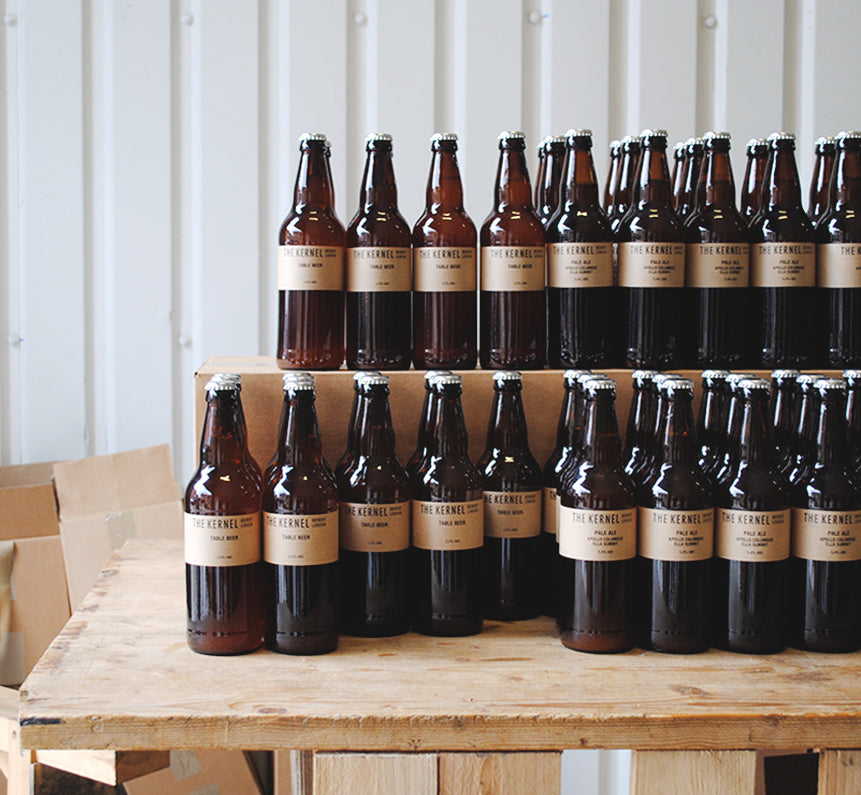 The Kernel Brewery
Table Beer: A light pale ale, around 3% abv. Malted barley and rolled oats. First batch brewed in 2012, as an attempt to create a low-alcohol beer which did not suffer from being thin-bodied or lacking in character. Like our pale ales, hop aromas are the focus, with bitterness in balance.
Pale Ale: 5-6% abv. Malted barley. Dry and light-bodied to better showcase the individuality of the hops in both aroma and flavour. A basic recipe is followed, with each batch utilising different hop varieties from around the world based on seasonality, availability, and the whims of the brewer.
Porter: 5.6-6.3% abv. Malted barley. This started out as a recipe based on one from the Barclay Perkins brewery from 1855. The Kernel tempered the roast character of the original recipe with some chocolate and crystal malts, but the main difference is that this is hopped in the way they would hop their pale ales and IPAs – late kettle additions and dry hopping. The result is a dark brown beer that promises coffee and cocoa, but then the hops bring lightness, brightness and fruit. Hops vary.
Brown Ale: 5.3-5.6% abv. Malted barley, oats. Sitting somewhere between Northern English and American brown ales in style. Medium-bodied. Toasted nuts and dark caramel balanced by hop bitterness and gentle hop aromas.
Biere de Saison: 4.5-5.5% abv. Malted barley, wheat, oats. A mixed-fermentation with a combination of yeast and bacteria. May be a blend of beers fermented or aged in oak barrels or foeder. Dry with complex acidity and aroma varying batch to batch. Can be dry-hopped or re-fermented with whole fruit, such as damsons, quince or apricots.